The warmer spring and summer months are usually the time when most people, who are planning on painting the exterior of their home, have it done. There are many things to consider when it comes to painting your home's exterior. Color, of course, is probably the first and most important decision that is made. If you are not planning on doing the job yourself, I suppose which contractor you choose would definitely be a very important decision as well. And, while it may not seem like a big decision, choosing a more eco-friendly paint, is in fact an important decision and can have an impact on your home, family, and the environment.
This article from Houselogic, gives you some tips on how to "Green Up Your Exterior Paint Job". So, whether you are planning to tackle the job yourself or hire someone to do it, you should check out these helpful tips.
Green Up Your Exterior Paint Job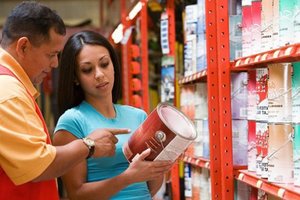 Most people think a green paint job means springing for a few cans of low-VOC paint. That's one place to start, but making a painting project more environmentally sensitive doesn't end there. Greening up a paint job also means recycling cans, reducing waste, choosing nontoxic caulks and putties, and working in a lead-safe manner.

Taking green steps can add 10% to 25% to the cost of a pro paint job, jacking up the average price to paint a 2,000-square-foot, two-story house from $5,000 to around $6,000. But before you balk, understand that some of these practices are already built into the working process—and the cost estimates—of most high-end, conscientious paint contractors.
Here are some easy ways to improve air quality, reduce waste, and limit exposure to toxic chemicals when tackling an exterior painting project.
Choose low- or zero-VOC paint
Volatile organic compounds (VOCs)—solids and liquids that convert easily to gas or vapor at room temperature—are contained in many paint products and have been linked to a variety of health problems. On the mild side, they can make your eyes water and give you headaches; more seriously, they can trigger asthma and other respiratory diseases, and some are known to cause cancer.
Common VOCs in paint include ethylene glycol (the same chemical compound found in antifreeze), formaldehyde, benzene, and a variety of other flammable or toxic chemicals. The paint's materials safety data sheet (MSDS) lists any hazardous materials the product contains. Laminated MSDS sheets are usually displayed in paint stores, and you can also download them from a paint manufacturer's website before you buy.
Current EPA regulations limit VOCs to 250 grams per liter in latex paint, and 380 grams per liter in oil-based paint. Low-VOC paints, now available from most major manufacturers, clock in at less than 50 grams per liter for flat paints, and 150 grams per liter in gloss paints. Some go even lower, hitting 25- or even 10-gram-per-liter benchmarks. A paint that has 5 grams of VOCs or less per liter can claim "zero-VOC" status.
With little to no odor and performance that rivals that of conventional products, today's low-VOC paints are easy to like. The biggest barrier to wider use is the higher cost: about $10 more per gallon than conventional premium paints, which adds up when you're painting an entire house.
Use lead-safe practices
As of April 2010, by law paint contractors must follow strict lead-safe procedures while working on pre-1978 houses to ensure that old paint dust isn't dispersed into the air. In addition to wearing protective suits and masks, they're also required to use high-performance HEPA sanders and vacuums and to carefully collect and bag old paint scrapings. Any lead-containing waste can't be tossed out in the regular trash but must be bundled in special bags and brought to an authorized hazardous waste facility.
The cost of the extra labor and disposable materials—such as Tyvek suits, masks, tarps, and vacuum bags, which can't be reused on the contractor's next job—accounts for a large chunk of the added expense to homeowners.
Buy only what you need
Smart contractors only buy as much paint, primer, putty, and caulk as they need for a job. If you're doing the work yourself, consult a paint-store expert or use a paint calculator so you buy only what you absolutely need to reduce waste. Remember: Once your color's mixed, you're stuck with it. Buy slightly less than you need on your first run. You can always buy more later.
Use quality tools and take care of them
Waste isn't green. Cheap brushes lose bristles and make a mess of the job. Same goes for cheap rollers and sprayers. Good contractors buy high-end materials and take care of them so they last. For DIY projects, buy the best brushes you can afford and commit to washing them carefully after each use. It often doesn't pay to wash and reuse roller cartridges; buy the best you can and dispose of them when the paint on them has dried completely.
Recycle cans, solvents, and paints
The best way to recycle leftover paint is to use it for a different job around your house. You can also donate it to an organization that can use it. Paint that is still in liquid form can be remixed and reprocessed by companies such as Boomerang Paint into excellent new paint products.
Dispose of empty or dried paint cans and solvents at a county hazardous waste landfill. Costs vary greatly. In some municipalities, homeowners don't pay for this disposal, only commercial contractors do.