Let's face it, no matter how careful you are, stains happen. If you happen to have children or pets, stains are probably a common occurrence. Often, successfully removing a stain means acting as quickly as possible. However, what do you do if something is spilled on your carpet or furniture and you are all out of store bought stain remover? The answer may lie in your refrigerator, bathroom, or pantry. In this article from The Huffington Post, you are given several DIY remedies for the removal of just about any type of common stain you could think of. Everything from wine, grass, coffee, ink, and even blood, can be removed with everyday items found in most homes.
Eco-Friendly Stain Busters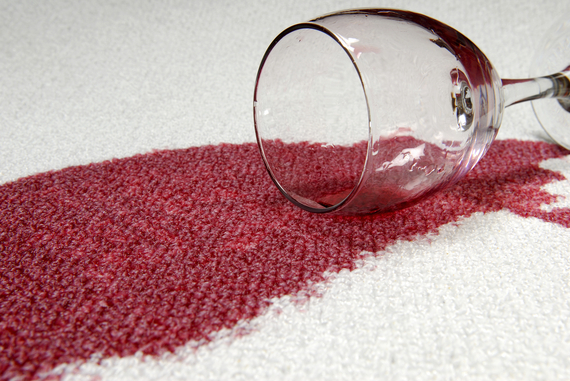 Grass stain on your patio cushion. Wine stain on your carpet. Ink stain on the couch. Let's face it, even when we try our very best, life is messy. I have put together a list of some of the toughest furniture and carpet stains we encounter along with quick DIY eco-friendly fixes that will help get your fabric back to its stain-free state.
Blood: Mix one tablespoon of liquid dishwashing detergent (POPSUGAR has agreat recipe for natural DIY solution) with two cups of cold water. Apply the solution to a clean cloth and blot the stain until it disappears.
Gum: Put a plastic bag full of ice directly onto the stuck gum. Once it hardens, you should be able to scrap it off. If the piece of fabric is small enough, you can place it directly in the freezer until the gum hardens.
Chocolate: Rub the stain in a circular motion with warm, soapy water or aborax solution. Rinse with cold water.
Coffee or Tea: Spot-clean with cool water or vinegar or try an enzyme-based cleaner.
Grass: Rub the stain with hydrogen peroxide.
Ink: Wet a clean cloth in vinegar and blot the stain–rewetting the cloth with vinegar as needed. Once the stain is gone, rinse with clean water.
Grease: Apply dry cornmeal to the spot and let sit for 20 minutes. Once you shake it off, the stain should be gone. You can also try cornstarch.
Makeup: Carefully put few drops of glycerin on the stain and scrape off.
Tomato Sauce: Alternately blot the stain using a damp sponge (cool water) and dry cloth. If possible, move the cushion or rug into the sun–the UV-rays will help breakdown the stain. For stubborn stains, rub with a cut lemon.
Red Wine: Spot clean or soak in cool water. Pour salt over the stain while it is still wet and let it sit until it begins to turn pinkish. Discard the excess salt and vacuum.